Real Phone Product ID 76389955GE
Roll over image to zoom in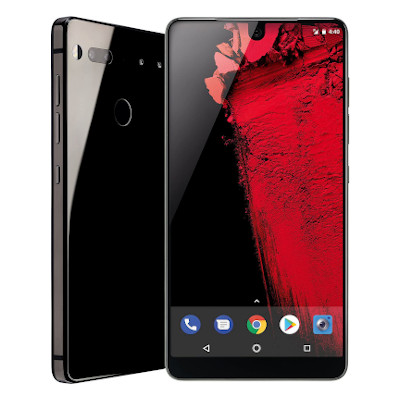 About Phone
The Essential PH-1 is a phone designed by Andy Rubin, an Android co-founder. Critically acclaimed for its clean design, edge to edge display, and stock Android OS. It also has a minimalist notch design (the top display cutout on the front to accommodate the camera).
Phone Details
Release Date: Aug 2017





Screen Size: 5.71 inches




Screen Resolution: 1312 x 2560




PPI: 504




Display Refresh: 60 Hz





Rear Camera: 13MP + 13MP




Front Camera: 8MP





Processor: 2.45Ghz Octa-Core

Battery: 3040 mAh


Wireless Charging: No




Fast Charging: Yes





Water Resistant: IP54





Weight: 185 g





Width: 71.1 mm




Depth: 7.8 mm




Height: 141.5 mm



This phone is sold by an individual seller
This phone is sold by an individual seller who has been verified by UpTrade. UpTrade conducts a phone background check and a virtual phone inspection to ensure phones are fully functional and in the condition as described. Seller listed phones come with a 14 day returns.
Our Story
Our mission is to make today better so that the world will be brighter tomorrow; to build a company where the life of used electronics is extended through the hands of others or recycled to help reduce carbon footprint. We are committed to providing a fast, easy, safe, and trustworthy service for everyone.
Essential PH-1 128GB Stellar Gray - Unlocked
For sale by
R2D (FORT WORTH, TX)
Excellent condition, nearly flawless
Customer Reviews
4.63 Rating based on 348 reviews
Data From
Marcie Jordan
I had a previous bad experience ordering a used phone online, so I was really hesitant to order one from UpTrade. I was shocked that they sent me a video of my phone being cleaned, packaged, and that my name and address was on the label. It made me feel so much better. The phone arrived fast, looked brand new, and worked perfectly. I am definitely pleased with my purchase and with UpTrade.
14 hours ago
UpTrade Certified
Quality, fully functional, used refurbished phones
30 Day Free Returns
Return for any reason or no reason at all
Secure Payment
Visa, Mastercard, Amex - Powered by PayPal
Customer Support
Contact us by chat, mail, phone